In 1972 Rostislav Eismont received a Louis Comfort Tiffany Apprenticeship grant to study at John Glick's Plum Tree Pottery in Farmington, Michigan. A three year residency at the Penland School in North Carolina followed that apprenticeship. RED MILL POTTERY featuring a variation of the Phoenix fastfire kiln was established in Peekskill, New York in 1980. In 1985 a move to New Hampshire to work in greater proximity to Gerry Williams and Studio Potter magazine held promise of a new wood-burning kiln. Over the ensuing years each foundation hole for a kiln quickly filled with ground water and a meeting with Malcolm Wright provided a chance to be on the Turnpike Road firing crew. In 2015 after thirty-five years as Art Director of STUDIO POTTER magazine, a renewed opportunity for making pots occurred. A recent discovery of a dry foundation hole is also the basis for a new wood-burning fast-fire kiln.

My interest has been and remains to explore the dynamics and range of function within a particular form and to present a group with either subtle or quite distinctly differentiated personalities. As with my PAINTING, this approach supports a desire to understand and view my work with the eye of a perpetual beginner. Working on a Leach treadle-wheel allows for and actually encourages the resulting work to appear both casual and refined at one and the same time.



ABOVE: Bowl in use in the collection of David Williams, NYC. (wood-fired, Mashiko slip)




LEFT: COVERED JAR, raw wood-fired, rope decorated, slips. ca mid-1990s.
CENTER: TEA BOWL, multiple firings, Shino, ca. late 1980s (exhibited in American Shino, Baltimore and Houston, 2013 (tribute to Malcolm Davis).
RIGHT: TEA POT (KENZAN/POLLACK), wood-fired, multiple slips, ca. 1995




LEFT: FACETED VASE, raw wood-fired, multiple firings, Shino, exhibited in American Shino, Babcock Gallery (2001), NYC and Fitchburg Museum (2002).
CENTER: COVERED JAR, temmoku, faceted. ca 1994.
RIGHT: TEA POT, wood-fired, Oribe style, ca. 1980s.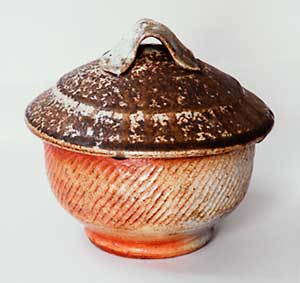 LEFT: PITCHER, raw wood-fired, colored slips, multiple firings.
CENTER: PITCHER, chun glaze.
RIGHT: COVERED JAR, raw wood-fired, rope impressed surface.




LEFT: YUNOMI, thrown, partial facet, straw ash glaze with temmoku, 2016.
CENTER: GUNOMI, thrown, fluted, chun glaze, 2016, private collection.
RIGHT: BOWL, thrown, raw wood-fired, natuaral ash glaze, ca. 1990s, collection of Joe Schumacher.




Recent work and work in progress, 2016